Congratulations to our 2022-2023 Premier Scholarship Winner, Tanner Pedretti!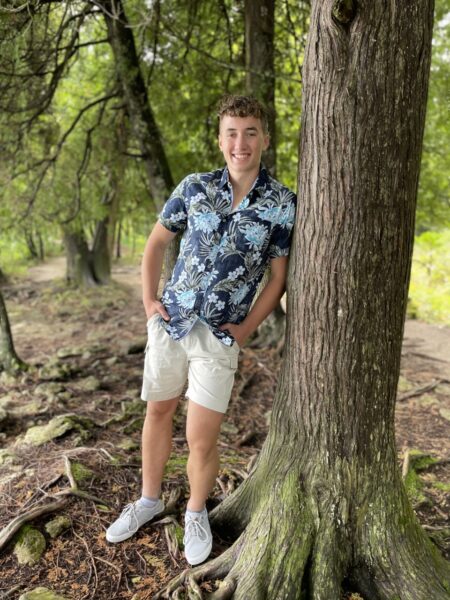 We are honored to announce Tanner Pedretti as the recipient of the Wisconsin Rural Opportunities Foundation Premier Scholarship for the next academic year.
Tanner is a remarkable student with many talents and skills. Throughout attending De Soto High School, he maintained a 4.0 GPA. He was team captain for the cross country and basketball teams. Tanner was awarded First Team All-Conference in basketball and in the Ridge and Valley Math Competition. He received first place in his class B alto saxophone solo at the Wisconsin School Music Association's Solo & Ensemble Festival. His most meaningful achievement was as president of the De Soto FFA chapter when he helped raise over $3,000 for the Freedom Honor Flight to help veterans visit memorials in their honor.
What's even more remarkable is the moving story that has propelled Tanner on a career path to becoming a physical therapist. During a four-month recovery from a fractured femur, Tanner suffered as a child, Tanner's fears were alleviated by his young doctor who gave Tanner hope for a full recovery. Little did Tanner know at the time that his doctor was undergoing terminal cancer. By the time Tanner's leg healed, his doctor had passed away. Ever since then, Tanner has wanted to repay his doctor's incredible act of kindness and professionalism, which Tanner feels by exemplifying, he can make a difference in a person's mental, emotional, and physical recovery.
Tanner grew up on a 600-acre beef farm near De Soto, WI, helping with the chores involved in successfully raising and showing livestock. Having experienced the full range of physical aspects that farmers face every day, Tanner feels this gives him a unique perspective on the challenges and risks farmers face in their daily lives. With a degree in physical therapy, Tanner hopes to serve the agricultural community in Wisconsin. Says Tanner, "There are many ways to positively impact agriculture, but I cannot think of a better way for me to do it than by keeping those on the frontiers of agriculture healthy." Tanner plans to major in Exercise and Sports Science and looks forward to beginning a pre-physical therapy track.
Please join us in congratulating Tanner Pedretti!
To learn more about the WROF, Inc., please read about our history.